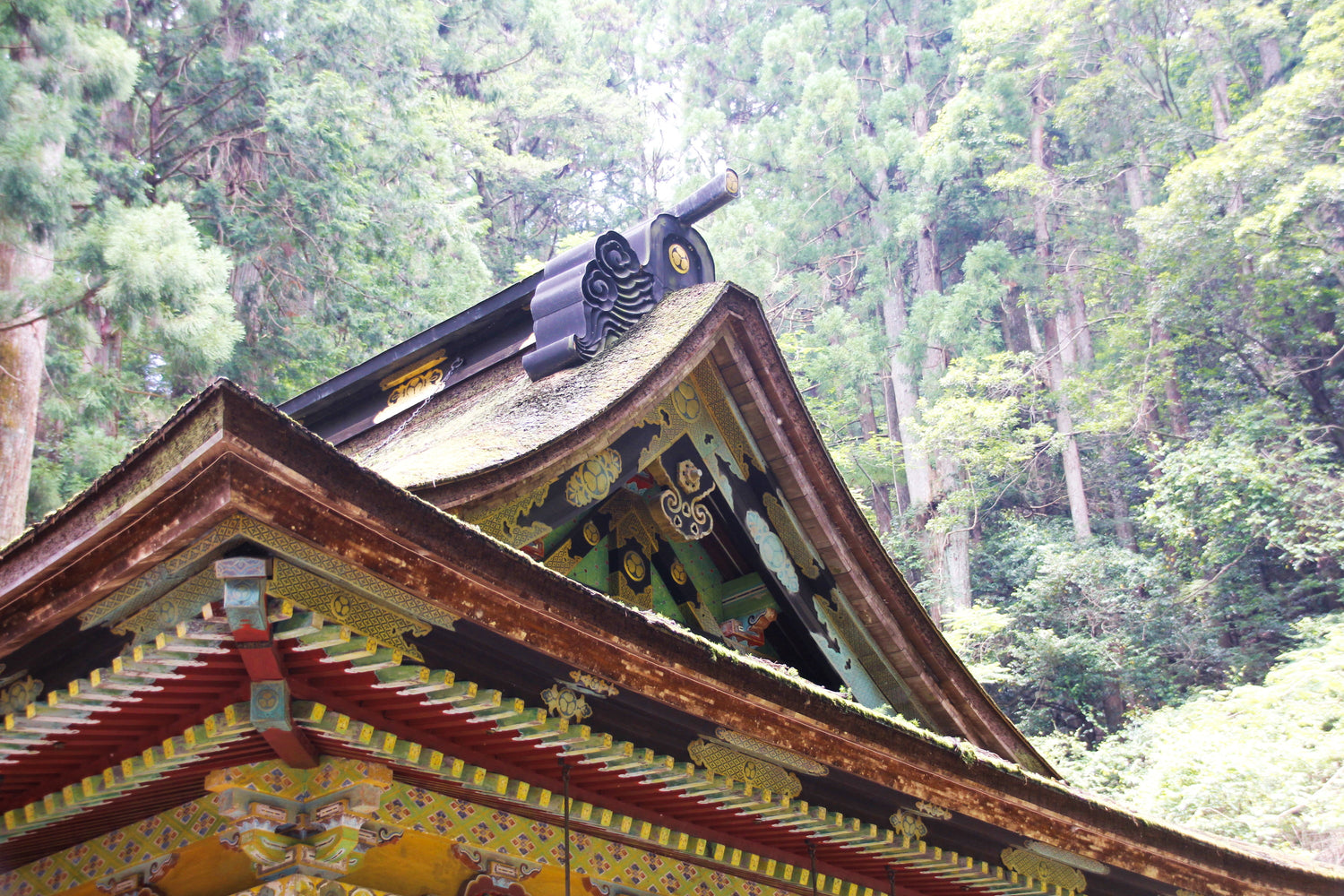 Embark with us on an full-day private tour to uncover Mt. Horaiji's history, stunning natural scenery and spiritual significance. This journey combines cultural exploration with a moderate walk (going down the third-largest staircase in Japan, instead of up!).
We will take you to a number of significant landmarks and viewpoints, including Mt. Horaiji's shrine, temple, Buddhist stone monuments, stone steps and temple street. On Saturday tours we visit the beautiful river nearby.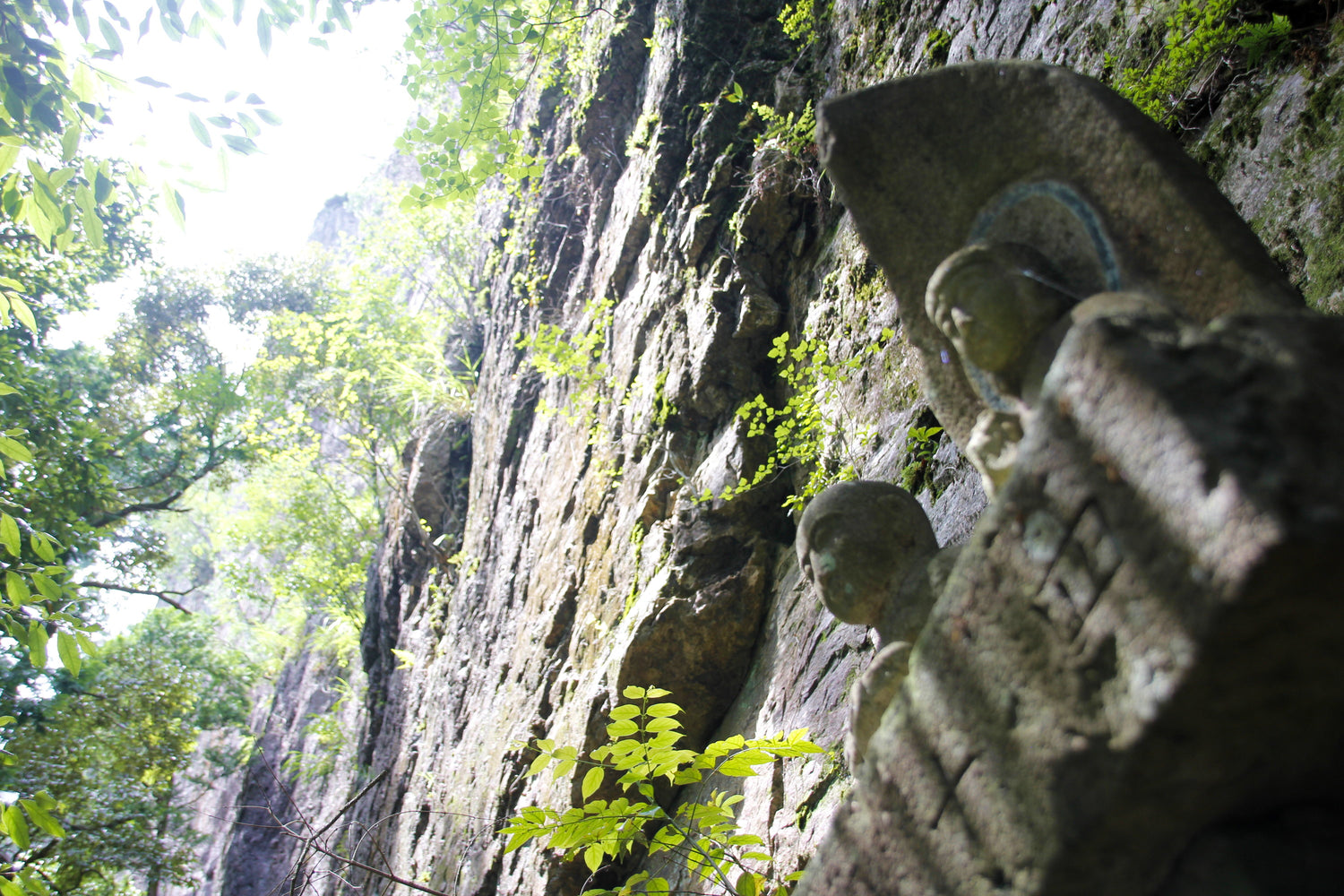 Mt Horaiji holds great significance in the Japanese 'Shugendou' combination of Buddhism, Shinto, and much older native religion. Its legacy spans over 1,300 years. As we journey through the mountain's landscapes you'll have the opportunity to explore and immerse yourself in its rich history.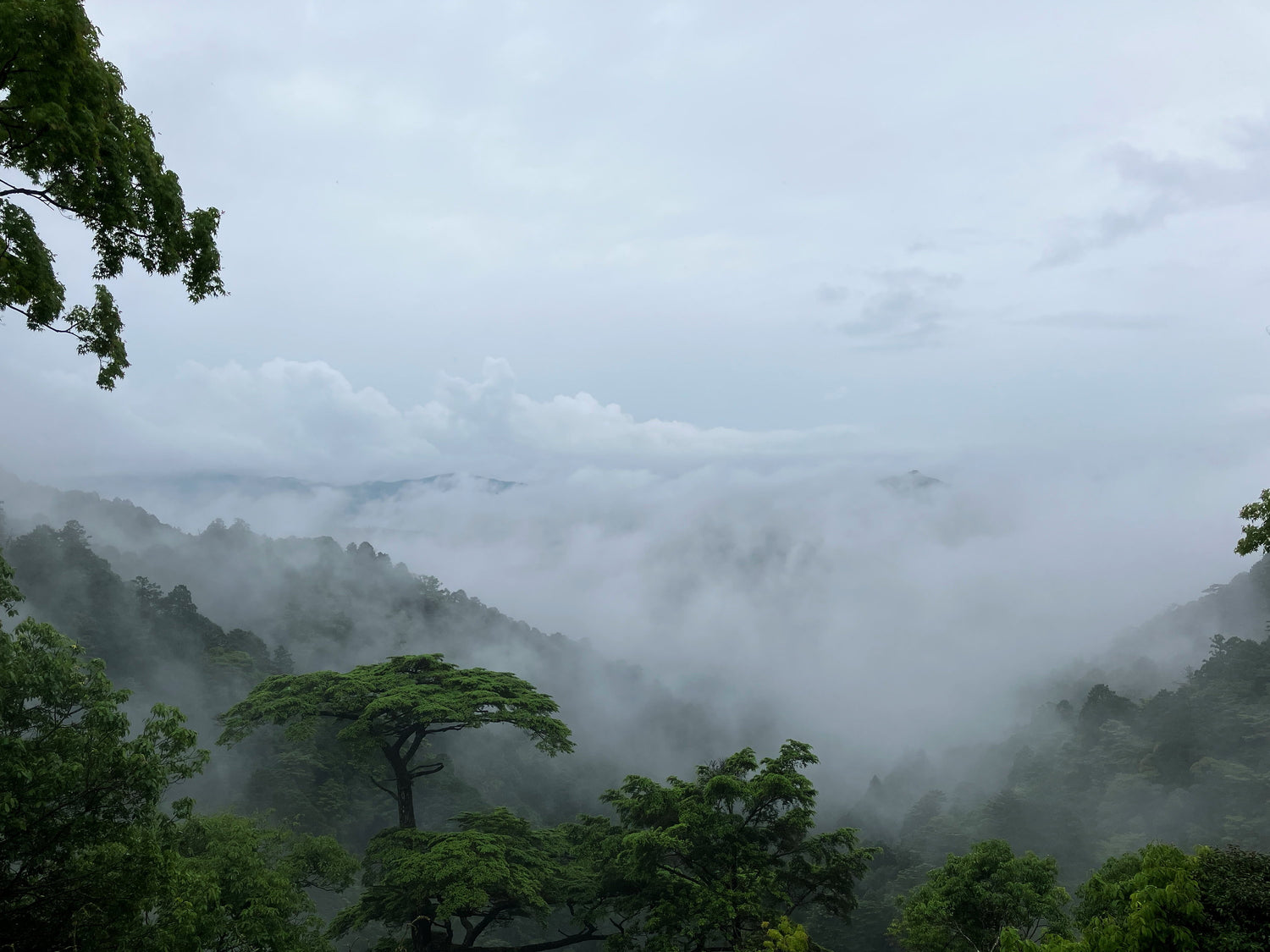 Follow in the footsteps of pilgrims who travelled to Mt. Horaiji for centuries. The mountain still has amazing scenery and atmosphere on most rainy days!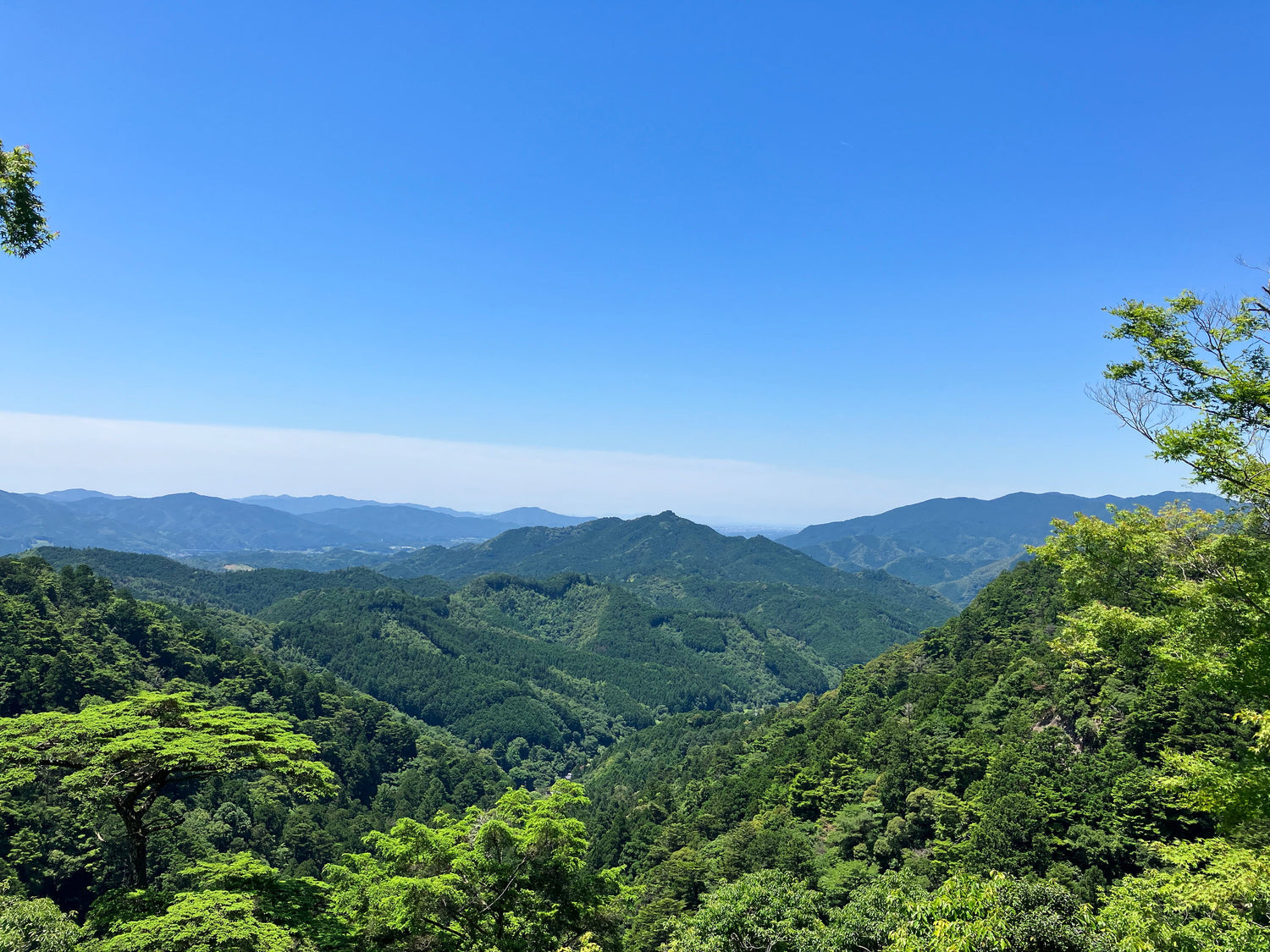 After exploring the shrine devoted to one of Japan's most powerful samurai, we'll indulge in a delicious bento lunch, eating and marvelling at the views from the grounds of the main temple.
Join us on an adventure of cultural discovery and natural exploration, where you'll have the opportunity to discover the essence of Mt Horaiji. Come along and create lasting memories, covering approximately 6-7 kilometres on foot. Please note, a basic level of fitness is needed for this tour, as we will be walking and climbing down a long staircase, with breaks.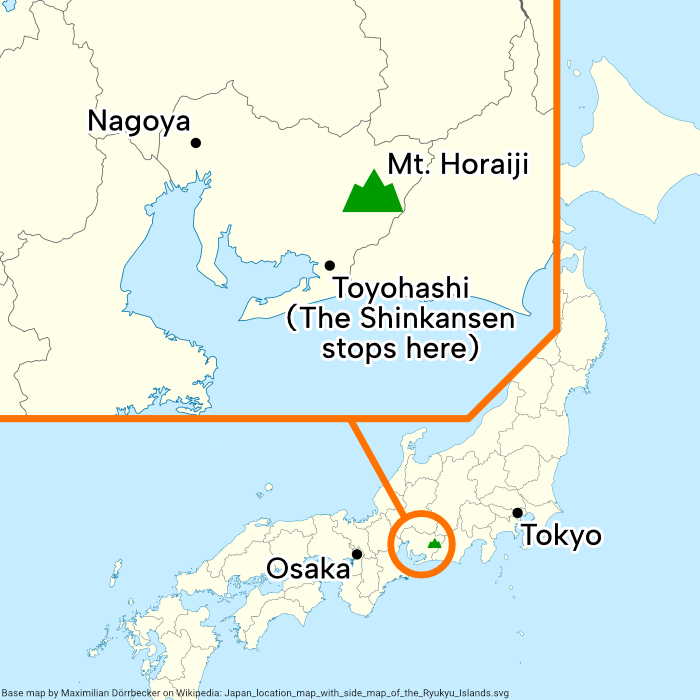 A must-see along the Golden Route
Mt Horaiji is up the mountain valley from Toyohashi, on the very popular Tokaido Shinkansen line.
A journey to Mt. Horaiji when going between Tokyo and Kyoto is a centuries-old tradition, so follow the pilgrim's path and come see this amazing place! Perfect for a day trip out of Nagoya too.
Tour highlights
All-day private tour, possible as a day trip from Tokyo/Kyoto/Osaka. We spend roughly 6 hours on the mountain, with just over an hour in transport together.
Hear about and see the historical significance of Mt. Horaiji.
Immerse yourself in the serene beauty of the landscapes and views from the trails and lookouts.
Enjoy a delicious bento lunch while enjoying panoramic views from near the main temple.
Visit the remarkable shrine, itself steeped in over 300 years of history and cultural significance.
Discover the essence of Mt Horaiji through a journey of cultural exploration and natural beauty.
An easier way to explore Mt. Horaiji's ancient 1,400+ stone steps - going down instead of up!
Get in touch to make a booking!
You can view our available dates for tours on our availability page. Please note the tour does not run in July, August or September.
Explore Holy Mt Horaiji Tour
About your hosts
We are an Australian/Japanese couple that have loved this part of Japan for a long time. In 2023 we were able to buy our dream house not far from Mt. Horaiji, and we've made it our mission to spread our love of this incredible place and its stories as much as we can. Mt. Horaiji and this area deserve much more attention, and the local history needs to be preserved!
With both of us, we offer both native-level English and Japanese, which is useful when talking about the complicated cultural history of Japan.
We can't wait to share this place with you!
What we'll do in detail
Meet at Toyohashi Station ~10am
We will meet you before 10am, to help you get the train to Yuyaonsen Station (next to Mt. Horaiji). The train ride takes about 45 minutes, through Japanese countryside "inaka" scenery.

Visit Gyoshagoe (from the top, no need to climb)
From the top there's amazing views, and we will tell you about the history of the more quiet side of the mountain while we snack on onigiri.

An Ukio-e painting of Gyoshagoe by Utagawa, from around 200 years ago.
Visit Horai Toushougu Shrine
We'll walk around the shrine and see it's intricate painting and decoration while taking in the incredible atmosphere.

The front of Horai Toushougu Shrine
Lunch with a view at the Horaiji Temple Hondo ~12:40pm
We'll look out over the view while eating our bento. We will have a snack earlier in the day too, so if we need we can have lunch after the Takauchiba lookout.
Visit Takauchiba Lookout
After a walk through the forest, feel like you're walking on air from this rocky viewpoint where samurai used to hunt hawks and practice falconry.

Part of the view from Takauchiba
See the temple grounds under the "mirror rock" cliff
We will walk through the temple grounds and enter a place with Buddhist monuments and sacred spaces from so long ago that only monks from history know when many statues were made.

A view of the "mirror rock" behind the main temple building
Descending the famous hand-carved stone steps
Much easier than climbing up, we will go down the steps, and see the spiritually and culturally significant landmarks on the way.

Looking up the stone steps towards one of the old temples on the mountain.
Walk through the old temple town
See the charming and historical small village nested in the valley below Mt Horaiji.

The Omotesando of the Horaiji Temple.
Bus to Hon-Nagashino Station where the tour ends ~5pm
We help you to get the train back to Toyohashi Station for the Shinkansen.
Price
Up to 2 guests:
¥30,000
3 or more guests:
¥30,000 + ¥1,000 each for the third and extra guests
Please see inclusions and exclusions in the FAQs on this page. Train and bus fares are not included.
Transport times
You can join our tour in transit between Tokyo and Kyoto/Osaka or as a day trip from the close major cities! Below we show the regular departure and arrival times for major cities. Please note these times are given as information only, and do not account for late trains or missed connections. We will help you to organise the best train for your tour!
Departure times from major cities:
| | |
| --- | --- |
| Departure Station | Departure Time |
| Tokyo Station | 8:33am |
| Nagoya Station | 9:08am |
| Kyoto Station | 8:10am |
| Osaka Station | 7:54am |
Arrival times in major cities:
| | |
| --- | --- |
| Arrival Station | Arrival Time |
| Tokyo Station | 8:12pm |
| Nagoya Station | 7:06pm |
| Kyoto Station | 9:12pm (a faster route is possible with more transfers, depending on your comfort level) |
| Osaka Station | 9:27pm (same as above) |
Recommended plan - Stay at Yuyaonsen
If you want more time around the mountain, we recommend spending the night before or after your tour at a beautiful hot spring inn near Yuyaonsen Station (at the bottom of Mt. Horaiji). If you stay at Yuyaonsen we can extend the tour itinerary by 1 hour at no extra cost, as we will not need to get the train from Toyohashi!
Click here to see Yuyaonsen Station and the inns there (called ryokan). You can also contact us if you're interested in staying, and we can help you find the right place.
Yuyaonsen hot spring also has 1,300+ years of history, and was found by the same hermit monk that started the Mt. Horaiji temple!
Want more information about Mt Horaiji?
For more information about Mt. Horaiji and its history, Aichi Now has a great site about it.
FAQs and details
Days and times

Summer months

The tour does not run in July, August, or September, due to the heat of Japanese Summer and the challenges it brings to any hiking trip, we apologise for any inconvenience.

Tour is available weekdays and Saturdays

Due to a lack of public transport options in the mountains, we cannot run the tour on Sundays, we apologise the the inconvenience. If you drive/rent a car, Sunday tours are possible.

Saturday tours

Due to public transport restrictions, on Saturday tours we need to catch an earlier bus than normal. On Saturdays we visit the beautiful local river instead of one of the view points on Mt. Horaiji.

Important times

For those travelling by train: We will help you to find the best Tokaido Shinkansen train to Toyohashi Station for the tour. We meet you at Toyohashi and must leave just after 10am. This timing is unfortunately very strict.

The tour ends at around 5pm at Hon-Nagashino Station (near Mt. Horaiji), where we help you get the train back to Toyohashi Station for the Shinkansen.
What is included/excluded in the price?

Included in the tour:

One bento box lunch per person
Assistance from Toyohashi Station to the start of the tour

Not included in the tour:

Train and bus fares
Drinks and water (the tour area has vending machines and some access to drinking water)
Luggage storage (it's best to send luggage to your next hotel, or Toyohashi Station has some coin lockers)
What do I need for the tour?

A reasonable level of fitness

(for example the ability to walk uphill for 10minutes without feeling sick or light headed)

Confidence/ability to walk on forest trails and many uneven, hand-carved steps

- if you have a bad ankle/knee/back it's best not to do the tour

Shoes suitable for walking

- preferably hiking shoes or shoes with some grip. In wet weather we skip one location and walk more carefully, but the steps can still be quite slippery.

A hat, and preferably a sun shirt, sunglasses, and sunscreen

- especially in warm months. We walk through the forest but there is still a chance of being sunburned. We provide insect repellent in warmer months.

A water bottle

(even a reused drink bottle) - in the climb down the mountain we will not have access to a vending machine or drinking tap.

Sufficient travel insurance for this type of activity

- we are not responsible for injuries that may occur on the tour, and in the case of injury we will make sure medical attention is received as quickly as possible. The Japanese medical system is quite fair, but some travel insurance companies are not - please make sure hiking-style tours are covered.
Cancellations and bad weather